Address: Calle Corral, accross from Hotel Casa San Francisco
Phone: (505) 2552-0313
Visit the Website >
Casa Granada Properties offers the best, Nicaragua property listings available online, or in our office. We are North Americans and Nicas working together to find the best properties and prices. Our goal is to have satisfied customers who will enjoy Nicaragua as much as we do. We want you to find your dream property for another lifestyle experience or for investment potential.
In Nicaragua, you'll enjoy an inexpensive lifestyle in one of the safest countries in Latin America. You?ll be surrounded by traditional architecture, spectacular beauty, old world charm with modern conveniences, a growing economy, tropical climate, cultural history, lakes, volcanoes… paradise. The warm hospitality of the hard working, family-oriented Nicas make either an investment or a vacation dream come true.
We have historic Colonial homes, fixer uppers, private islands, pristine crater lake properties, small coffee farms, large rural properties, business properties for restaurant, B&B or hotels and much more. We also have excellent relationships with architects, constructors, translators and others to help you with your experience here.
Sample Listings: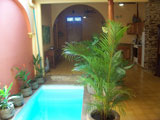 Brisa's House
Beautiful restored and decorated house located close to the central park, great for a private dream home. Artfully furnished. Rents well. Turn key. Asking Price: $175K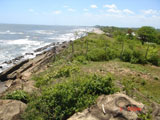 Rayan Playa Casares
This property is located on the cliff overlooking the beautiful beach of Casares. Close to a popular surf beach, you'll be able to experience a hypnotizing sunset, surfing, swimming and a friendly community. The property is located only 1.5 hours from Managua. The ocean is waiting for you!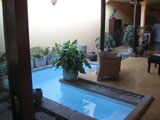 Casa Romantica
This is a well built home, built with colonial and Spanish flavor. Built on one of the most desired streets in Granada. 1 bedroom, 2 bathrooms, swimming pool. Asking Price: $185K.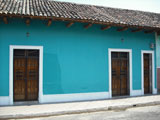 Casa Rincon
This beautiful colonial house it's located three blocks away from down town Granada and only a step away from the San Francisco historical convent, really close to Granada's happy zone where you can find restaurants, and bars. 2 bedrooms, living/dining room, tropical garden. Asking Price: $200K.